Falcon 9 sticks second sea landing, another victory for SpaceX's reusable rockets
Elon Musk's private spaceflight company continues to deliver. On Friday, a second rocket landed off the coast of Florida.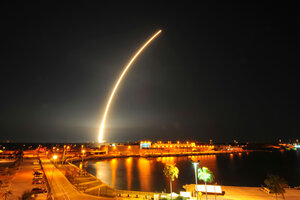 SpaceX had its second successful rocket landing at sea on Friday, lending validity to the idea that private space companies really can make dreams soar.
The unmanned Falcon 9 rocket carried a communications satellite, which it put in orbit. Less than three minutes later, the rocket turned around and headed back toward Earth, ultimately landing on a platform in the Atlantic Ocean.
SpaceX didn't expect a successful return landing because of the rocket's high altitude and speed. Elon Musk was jubilant about the mission on Twitter.
Friday's rocket launch and return was the second successful landing on a barge for SpaceX. The first occurred in April, when SpaceX was making a supply run to the space station for NASA. SpaceX made its first booster landing on solid ground in December.
The company is the only one so far to recover a rocket following an orbital launch. Blue Origin, founded by Amazon's Jeff Bezos, has also performed rocket re-launches and landings, but has yet to put anything into orbit.
Mr. Musk believes reusable rockets are the future of spaceflight technology because they can cut launch expenses, making the dream of private spaceflight more affordable. But there's still a long way to go before the price is attractive enough, and the technology is viable enough, experts say.
It's a matter of "How low can you get the price, and how many customers can you get at that price?" Dr. Jonathan Coopersmith, a historian at Texas A&M University, told The Christian Science Monitor in December.
Musk, who also runs Tesla Motors, hopes to eventually put people on Mars. SpaceX announced last week that it plans to send a Red Dragon rocket to Mars in 2018 and land the unmanned space capsule there.
Source:
http://www.csmonitor.com/Science/2016/0506/Falcon-9-sticks-second-sea-landing-another-victory-for-SpaceX-s-reusable-rockets